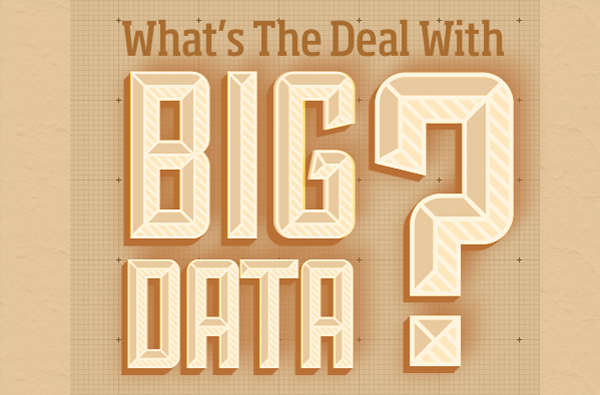 The term 'big data' may seem like Silicon Valley jargon, but don't write it off quite yet: it's more than just a buzzword. Big data is a real, applicable tool that helps businesses to better reach their audience, and consumers to better relate to and interact with the brands they love most. The big data explosion is only just getting started, too: analysts project that there will be a 4300% increase in data generation by 2020. If big data is too big to wrap your head around, here's one easy way to think of it: big data is your data. In other words, it's all the information that's been stored about people's various habits online that is then analyzed and processed to provide them more relevant content online, and businesses a more effective way of reaching them.
And just as its name implies, big data has a big array of uses as well. All types of businesses, from massive corporations to tiny startups can put big data to good use. It's often just a matter of understanding how, why, and what type of data a business should leverage. We decided we make things easy and break down a few of the ways advertisers are harnessing the power of big data to better engage consumers.
Location-based data
We've established that big data is instrumental in providing more relevant advertising to people while they're surfing the web. But what kinds of specific data do advertisers leverage from this targeted advertising? One form is found in location-based data. By detecting their device's location when they're online, advertisers can serve people ads, targeted emails, or other marketing messages based on what's relevant to that location. In fact, location data is so powerful that it is expected to net as much as $600 billion in consumer surplus.
Leading retailer Macy's puts location-based data to good use through its app and personalized promotions. The app uses data by detecting when a shopper and her smartphone is in the store and will then send relevant promotions and personalized notifications for items she's passing in the store. The retailer can then take this location-based data to the next level by analyzing where customers have been lingering in aisles or passing through quickly to redesign their store layout. This is a core example of how location-based data can benefit the consumer in the moment and in the future.
Purchase data
Advances in tracking and analytics online have made the e-commerce experience a whole lot more convenient for shoppers, as well as more useful for advertisers. Data is collected and studied on what people do prior to purchasing and what they end up buying. Then, it's used to identify trends.
You're probably familiar with one of the best examples of purchase data in action from e-commerce giant Amazon. Amazon uses a hybrid technique of analyzing a member's purchase history, what they've placed in your shopping cart, and what they've recently been searching and browsing to create a highly personalized online shopping experience. This technique pays off for Amazon too — it's cited that its conversion to sales of on-site recommendations could be as high as 60 percent.
Social data
So how does social media fit into the big data equation? Contrary to popular belief, the typical person's Facebook feed isn't all Farmville updates and Upworthy videos. And it's fairly informative for advertisers. All of the content that people produce by posting status updates and liking posts generates data — a huge amount of it. It's estimated that Facebook, for instance, takes in 500 times more data than the New York Stock Exchange (NYSE). It's no surprise, then, that social media is one of the biggest sources of data for advertisers out there. If you think about it, when you Like movies on Facebook or Favorite tweets on Twitter, you're declaring your likes and dislikes in a few data points. That data subsequently becomes an opportunity for businesses to understand  your preferences, and accordingly deliver ads that would be interesting to you (and effective for them).
Here's one instance in which social data is useful for businesses and you, too: ever been stuck searching for a perfect gift for a friend? One startup is leveraging social data to help you overcome that exact barrier. With your permission, Spanish company Giftri, taps into Facebook's data mine to offer you personalized gift recommendations on Amazon. By using algorithms to study what pages your friends have liked, how they describe themselves on their profile, and who their friends are, their software is designed to take out all the guesswork for you and deliver perfect gift recommendations. It's just one more way that big data works for you and advertisers.
So tell us, how do you incorporate big data into your strategy for connecting with consumers?
Related articles:
June 6, 2014 - 2 months ago
Tweet
Posted In trendstechnology
Comments »