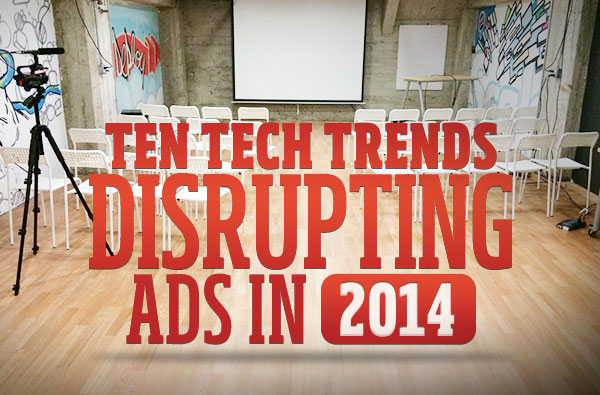 Every January we share the hottest ad-related tech trends for the year. And the watchwords for 2014 are programmatic, mobile, transparency, and social.
Check out our top ten and let us know if you agree.
1. Programmatic kills the IO.
Programmatic is big and about to get bigger. Its scale and ease of buying has hooked media planners, and soon programmatic will start crowding out the traditional IO — at least for digital media. Because hey — why are we still emailing around Excel spreadsheets for signatures? In 2014?
2. The third wave of social platform monetization begins.
Tumblr, Pinterest, and possibly even Snapchat will all introduce or solidify their advertising offerings, drawing attention from Twitter and Facebook (as well as capitalizing on their previous education of the market).
3. Mobile: the choice of a new generation.
You've probably met a few already: the "mobile natives." Non-mobile-natives will soon be the exception, not the rule.
We in digital advertising used to talk about "digital natives" — the generation that grew up with the internet. Today's young generation is growing up with mobile (not to mention that mobile is the #1 way people in developing countries are getting online). Soon most people in the world will have primarily accessed the internet through mobile devices.
4. Broken mobile cookie solutions force a migration to interest-based targeting.
Fragmentation across mobile tracking won't be resolved any time soon. What advertisers need is a universal customer ID — and the social ID transcends hardware and software platforms. Enter interest graph targeting based on public social data. Interest targeting allows brands to build mobile audiences based on what people really think and like, not derivative demographic profiles or blunt retargeting cookies. And mobile can become the demand generation platform it should be.
5. Brands demand greater ad network transparency and accountability.
As part of the industry shift to programmatic media, advertisers will more and more want to cut out middlemen and access their data and tools directly. It's time for us and other ad tech vendors to commit to reducing overall waste and increasing efficiency in the name of brand advertisers.
6. Clients demand financial transparency.
Clients are getting wise about the need to clean up agency financial misconduct and kickbacks. Oh, you didn't hear about the funds being kicked back in the ad industry? Or about firms' trouble with regulators and other firms off-shoring buying to avoid regulators in the US? You will…
7. The war room becomes the news room.
Realtime marketing goes from reactive to proactive. Brands who've been playing the social game for a while wised up in 2013 and grasped the cyclical nature of social. While world events will always add some uncertainty, marketers can depend on their calendar. Mistakes will sometimes be made (see #10 on our list of 2013 Social Media Moments), but brand etiquette in social will grow into a strong set of best practices.
8. Social hubs and publishers go to war.
Social sites have been gradually assuming the privilege of monetizing publishers' audiences. How many readers visit a publisher's home page anymore? Now, many of us turn to social to discover what's worth reading. Do you think publishers will stand for the attrition of their revenue streams? Nuh uh.
9. The web concentrates into the hands of a few major (social) players.
Link referral tracking and SEO is suffering at the hands of social. If you're a site owner these days, you may have noticed you know less and less about your visitors, because you don't have as much referral data as you used to. That trend will continue, as consumers make social sites their home base (and social companies continue to parcel out only morsels of data to brands).
10. Programmatic goes social.
It's not just for display anymore. Facebook media is already available from firms like Criteo, and more social players will soon follow.
How'd we do? Any trends you'd strike from the list, or any you'd add? Let us know in the comments.
Related articles:
January 1, 2014 - 2 months ago
Tweet
Posted In trends
Comments »