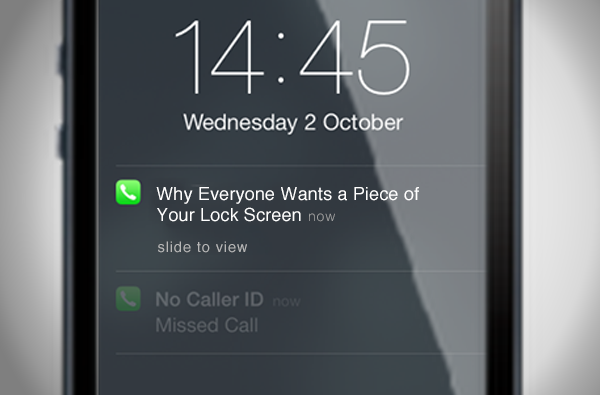 Wherever consumers are, an ad is close behind. Big Data is now critical for marketers to better understand their audience and deliver more relevant ads to the right people. However, even the most on-target message can go awry if the delivery is botched. Two-thirds of consumers in the US and UK saying they see too many ads. And now ad tech companies want to give marketers access to smartphone lock screens?
The fact that something can be used as ad space doesn't mean it should be, from this guy's head to manhole covers and more. The problem in advertising isn't that we don't have enough inventory. But expansion into lock screen territory is already underway.
Mobile Marketers Are Locking Horns Over Your Lock Screen
We're already seeing push notification apps like Yo pick up traction with more than 50,000 active users communicating via lock screen alerts. Yo has earned laughs for its simplicity, but the company successfully made a name for itself and established a dominant position on the lock screen. Although Yo didn't originate the idea of putting a brand on the lock screen, interest has ramped up like crazy in the weeks since.
This coveted mobile real estate is prime for direct communication to consumers whenever and wherever they are. That's because push notifications can't be easily ignored — and considering that the average smartphone user looks at their phone more than 110 times a day, it isn't difficult to understand why the lockscreen is desirable. Push notifications in particular have won over marketers, so much so that the lock screen has been called the most valuable property in the media universe.
If You Shove Your Ad in the Consumer's Face, They'll Just Look Somewhere Else
Increasingly, manners matter as much as relevance and marketers must be careful to direct their message where they'll resonate. Sticking our message between the user's face and what they actually want to see might get attention, but almost certainly not the positive attention we want. Some of the most innovative companies are already thinking beyond the message. Facebook recently rolled out bandwidth targeted ads to prevent a heavy ad from trying to load when you have one bar. It is this experience-first approach that will dictate consumer retention as the digital space becomes increasingly saturated.
The consequences of taking over the lock screen are unknown. All we know is that advertisers want it. And we can surmise that unless it's used infrequently (for maximum impact) and with care (for not irritating the people you want to attract), it shouldn't be used at all. Brands are chasing after consumers more and more aggressively, which translates into a flood of content bombarding consumers daily.
For as much as the internet of things has pushed the ad industry forward, we must remember that with greater access to consumer data comes greater responsibility. The best marketers and most successful brands will leverage features like the lock screen wisely and discreetly to cultivate better engagement rather than push customers away.
Related articles:
September 18, 2014 - 1 month ago
Tweet
Posted In technologytrendsopinion
Comments »