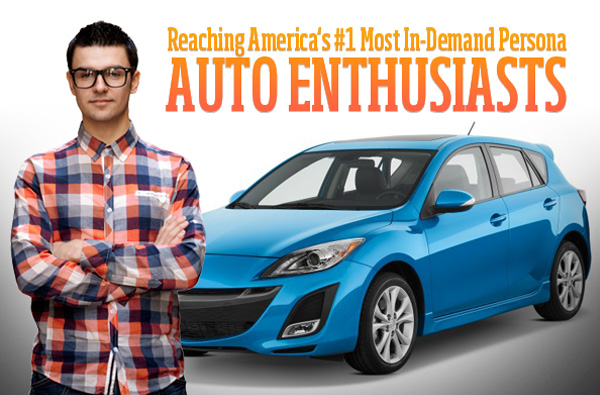 Given the huge chunk of advertising that auto brands claim every year, we weren't surprised to find in a recent study that auto enthusiasts are the most in-demand audience persona for social ad campaigns.
In this article, we'll go into what exactly an "Auto Enthusiast" is and how we target it.
View the report on Slideshare: Top Personas in Social Advertising
Why Automakers Love Social Advertising
In 2012, automakers made up 20% of the top 25 advertisers by spend, with a combined spend of $3.9 billion. Why are automakers among the biggest spenders in advertising?
For one thing, cars are among the biggest purchases the average person will ever make (along with a home and children's educations). And people buy, on average, 9 cars over their lifetimes. So each buyer's loyalty is valuable.
Then there's the time involved. Big purchases like cars require longer consideration time (one to three months, according to Lab 42) than little purchases like sandwiches, so automakers also benefit from making an impression at multiple places in the decision process.
Social is one of those places. Because people use their favorite social platforms to discover new things, social presents rich opportunities for raising brand awareness. From sport and muscle cars, tuner imports, safe and secure family cars, luxury vehicles, down to more niche products like hybrid luxury vehicles, people are sharing and discovering information about cars.
140 Proof social ads not only allow auto brands to zero in on just the people who've demonstrated interest in cars, but they also target many different types of auto enthusiasts, from "NASCAR Conservatives" to "Eco-moms."
Under the Hood: Reaching the Auto Enthusiast in Social
We do this using our proprietary Blended Interest Graph technology, which filters the social spectrum of interests signals like posts, check-ins, pins, likes, etc. to offer meaningful content recommendations to targeted audiences.
As the only company to target social ads based on interest signals from multiple social networks, 140 Proof has the unique ability to identify large, desirable audiences like "Sustainability Moms" or "Car Customizers" and deliver ads to these audiences at scale.
To date, we've worked with top car brands such as Chevrolet and Infiniti to create high-impact campaigns, and over the years we've learned a lot about what makes the auto enthusiast audience tick.
Here's a look into this highly desirable social audience.
AUTO ENTHUSIASTS
"Auto enthusiasts" is the largest and most general auto-related persona. This persona includes people who are generally interested in auto topics and products and people who are currently in the market for a new or used car. In social, they ask for or offer opinions on car brands, models, and financing. The more they enjoy driving or working with cars and the deeper they are into the shopping process, the more auto-related influencers they follow and like.

Who targets them:
Automakers, Parts Retailers (ie, Pep Boys), Road Services (ie, Meineke)

How they identify themselves:
They follow or like: Jalopnik, Scott Monty, Google Auto, Car and Driver, Chrysler, Edmunds…
They check in at: car shows, auto parts stores, car dealerships…
They see and say words like: test drive, Chevy, Ford, dealership, lease…

Popular Sub-Personas:
In-Market Auto Shoppers, Tuners, Sport and Muscle Car Lovers, Family Drivers, Luxury Car Shoppers

Related articles:
January 15, 2014 - 9 months ago
Tweet
Posted In Targetinginterest graph
Comments »