1 note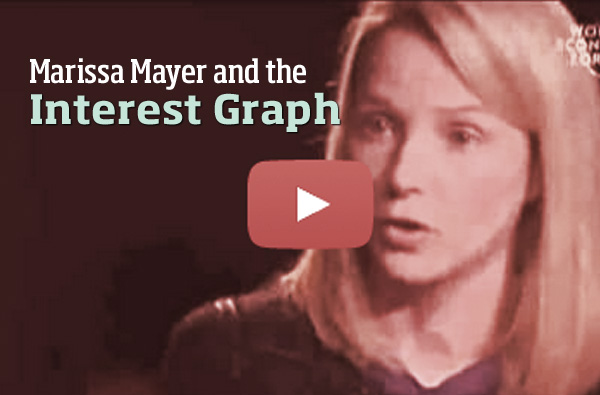 In conversation with Erik Schatzker of Bloomberg Television at the World Economic Forum, Marissa Mayer identified interest graph technology as the next trend in personalization:
There's the social graph, which is really important and very fundamental, but — what I'm talking about in terms of personalization — it will give way to the interest graph. 
Other technology leaders like Facebook VC Sean Parker, Pinterest founder Ben Silbermann, and Twitter CEO Dick Costolo have extolled the the interest graph before. Mayer's recent commentary underlines the importance of the interest graph currently has for all major technology companies.
Mayer went on to say (emphasis ours):
The interest graph is the set of things that I'm interested in. And if you know the set of things that I'm interested in, you know the set of things other people are interested in, you can create connections between people that aren't just based on whether or not they went to the same school or worked in the same place, but are actually based on "are they interested in the same things?"

So, for one, we can create very powerful personalization technologies [with the interest graph] because we can see what other people who like the same things, are interested in the same things that you are, are doing and provide you the same information through things like collaborative filtering. But there's also a very powerful social component there, because we can show you interests you may have in common with people you didn't realize.
Watch Mayer's entire comments on the interest graph:
Related articles:
July 29, 2013 - 7 months ago
Tweet
Posted In interest graph Pinterest facebook Twitter
Comments »