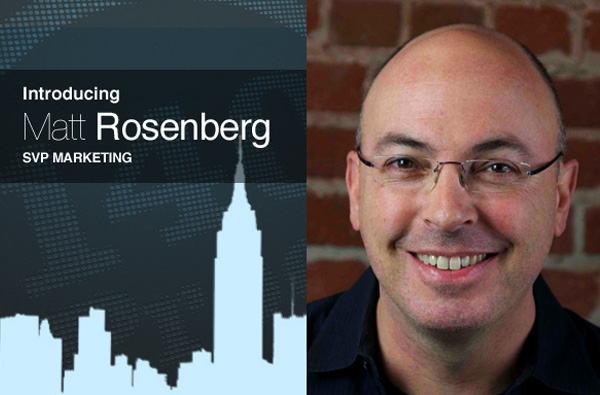 We at 140 Proof are proud to announce that Matt Rosenberg has joined us as SVP Marketing. In his new role, Rosenberg will shape the company's brand and product stories, build the company's industry profile, and develop programs to support advertising sales efforts.
Rosenberg joins recent Ed Darmanin, 140 Proof's new Chief Revenue Officer, as the company expands its executive presence in the New York media market. Already in 2013, the company has grown advertising reach over 100 precent, launched new social ad solutions for Pinterest and expanded its native ads into social sites and blogging platforms such as Tumblr and WordPress.
"140 Proof's business has been exploding and with a seasoned marketer like Matt and a sales leader like Ed joining the executive team, we expect to further build our profile in New York and nationally and accelerate our growth," said 140 Proof CEO and co-founder Jon Elvekrog. "Matt's agency, client-side, publishing and ad tech experience is as valuable a combination as it is hard to find. Having been on all sides of the marketing ecosystem, he has the business understanding and organizational empathy to deliver focused, relevant, useful communications."
Rosenberg joins 140 Proof with a 17 year history of thought leadership and innovation in the digital marketing industry.  He most recently led marketing for New York-based ad tech vendor Taykey, and prior to that was VP Solutions at SAY Media, where he founded the global strategy and market research groups.  Previously, he led business development and client services as EVP at boutique digital creative agency Big Spaceship, and he oversaw media and creative accounts at Organic.  Rosenberg was also an early digital marketing hire at Sony Pictures, where he worked on marketing over 300 movies.  Before going all in on digital marketing, he was a television writer.
"I couldn't be happier to be joining 140 Proof," said Rosenberg. "The technology is spectacularly effective, which is a great foundation for the guy whose job is to promote the technology, and the Blended Interest Graph is an elegant way to identify and deliver the right audience for an advertiser that also happens to drive measurably better performance."
Related articles:
September 11, 2013 - 5 months ago
Tweet
Posted In Events
Comments »