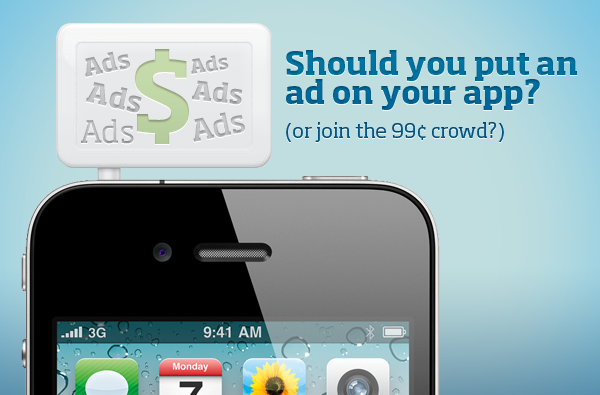 At 140 Proof, we talk to a lot of developers who are interested in learning more about how they might integrate our ads into their apps. Sometimes it's immediately obvious when an app is a great fit for advertising, and sometimes it takes a bit more digging to figure out if ads will be a fit for both the developer and for us.
Because smartphone platforms are so flexible, developers have created many kinds of apps for consumers to use. Figuring out how to monetize these apps can be tricky. Most app business models can be distilled down to four types: ad-supported, freemium, subscription, and priced for sale in the app store.
Here, we'll focus on how to know if your app is suited for advertising. When does it make sense for developers to choose an ad-supported model? In general, there are a few main characteristics of apps that do well with advertising. If you can answer yes to the following three questions about your app, you're on the right track:
1. Is your app sticky? Put an ad on it.
For apps that inspire users to log in often, developers can make more money with a free app strategy than with paid apps because free apps pay out more over time. For each user, a developer can generate revenue repeatedly just by showing ads. News readers like Reader and news:yc are "heavy use" apps that would work well as ad-supported apps. Media creation apps like Camera+ and GarageBand, or music apps like Pandora and Spotify also fall into this category.
Consider that Pandora's 2011 IPO filing revealed that Pandora makes 86% of monthly revenue from the ad-supported version of its popular music streaming app (available on the web, desktop, and in smartphones). People listen to Pandora for up to several hours a day.
While Facebook doesn't offer a paid app version to its users, most of its revenue comes from advertising, too: about 85%. 
2. Do users log in a lot? Put an ad on it.
Sometimes people don't log into an app and stay connected for hours, but instead check in many times per day. This means you can show multiple ads per day to a user, even if your app gets used for only 30 seconds or a minute at a time. 
Take social games like Scramble and WordFeud. People play for a minute at a time, up to dozens of times per day. Another example is social networks that allow users to "check into" their locations, like Foursquare and Facebook. These last two, of course, are huge global companies that generate the bulk of their revenues from advertising, but even small apps that gets users to "check in" regularly — like Highlight — are good candidates for ad-supported revenue models.
3. Can you segment your users into audiences? Put an ad on it. 
One of the secrets of advertising is that advertisers buy audiences. Brands define their target audiences in multiple ways, including how old they are, where they live, what they buy, and what sites they visit. Technology has made it possible for brands to target highly-precise, specific demographic groups online, and the same sophistication is coming to mobile. 
Advertisers will be eager to reach the audience that uses your app if a certain type of person tends to use it most often. For example, fashion apps and sports apps attract very different audiences, both highly valuable to certain advertisers. But even if you don't have a vertical, niche-specific app, developers can segment users into different segments, packaging up these audiences for advertisers. There are a number of ways you can segment users into groups, such as by geography, device, and interests. 
For example, a social reader app like Tweetbot or Echofon could segment its users into audiences by user location (listed in a social profile), by device (which OS the app is running on), and by trending topics (which content they post and share). An app like Yelp could segment users by city, types of restaurants they prefer, age and gender, and many other audiences. And, of course, vertical apps that cater to sports fans, fashion fanatics, new moms, car lovers, or any other group already have a targeted audience to offer advertisers, and can further segment users by location, gender, age, and preferences.
Identifying and segmenting audiences is tricky to do on your own, because you have to figure out how to show specific ads to specific segments. That's why developers should work with mobile ad networks that aggregate the audiences of many apps for advertisers, rather than trying to sell ads on their own. 
If you're interested in learning more about whether your app can monetize successfully with advertising, contact us at hello@140proof.com.
Related articles:
August 29, 2012 - 2 years ago
Tweet
Posted In MobileMonetizationPublishersAdvertisingTrendsTechnology
Comments »