2 notes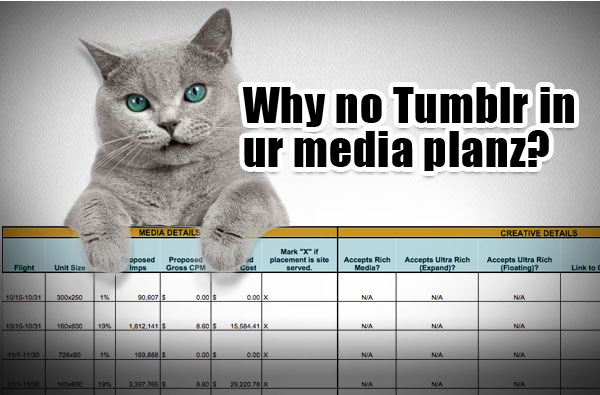 Tumblr Inc doesn't have a well-developed advertising offering yet, but that doesn't mean that brands can't reach Tumblr's valuable audiences. Offerings like 140 Proof's Native Ads for Social Sites offer brands the chance to run campaigns on popular blogging platforms like Tumblr.
Even though Tumblr's fast-paced growth eclipsing other social platforms, many brand marketers are asking what Tumblr can offer them. Here are five reasons that brands should jump into a paid campaign on Tumblr with both feet:
1. An Audience of Tastemakers
Millennials make up one of the biggest demographic audiences on Tumblr. And they exert considerable buying power, not just on their own but also as influencers of those around them. A new study from the Consumer Electronics Association concludes that "Millennials have the highest purchase intent of all demographics" and they give purchase advice to friends and other family members. 
Reaching them in their most-frequented spaces is a big opportunity for not just consumer electronics brands but other verticals like CPG, entertainment, and retail.
2. The Reblog Is King
Sharing is widespread on Tumblr, rivaling or surpassing other social platforms. Tumblr reblogs are fast coming into their own: Buzzfeed earned over 50,000 reblogs for just one of its Grammy night Tumblr posts. There's even a Tumblr blog dedicated to highlighting highly-shared posts.
Likes on Tumblr are as seamless and fast as Likes on Facebook, and Shares (known as "Reblogs") on Tumblr are even faster than a Facebook Share. A greater percentage of Tumblr users click Like on Tumblr posts than Twitter users click Favorite on Twitter posts.
3. Tumblr Job #1: Discovery
Discovery is key for brand marketers. And that's a perfect fit for Tumblr. Tumblr's young audience visits Tumblr to have fun and discover new things, much like they did when Facebook was a network of age-mates and not yet a family photo-sharing site. And because discovery and sharing are valued so highly (see #2), by many users above content creation, many people on Tumblr are looking for great things to share.
4. Flexible Creative Formats
Content from all other platforms — video, pictures, text — is compatible with Tumblr. Native social ad units for Tumblr are among the richest available, with generous visual space for well-designed creative as well as the traditional text and link. Brands who want to have an earned presence on Tumblr can easily tweak and repurpose their content from other networks, though beware — Tumblr users are more discerning (they see hundreds of great images and stories on Tumblr every day), so they'll reward only the very best of your creative.
5. Brands Enjoy Greater Share of Voice
As we noted in Why Tumblr Is Important for Brands, other social networks like Facebook are crowded with brand promotions. Most brands' paid social strategies focus on Facebook and Twitter, because of the broad, sizeable audiences that can be targeted plus relatively easy on-boarding processes for advertisers. 
Although many brands have already claimed their Tumblr namespace and started creating content, most people haven't encountered brand messaging on Tumblr yet. This is partly because brands aren't yet aware that they can pay to reach Tumblr users beyond existing followers. With no official ad solution forthcoming, paid Tumblr campaigns are still the well-kept secret weapon of a few brand marketers. Paid campaigns on Tumblr from companies like 140 Proof, therefore, offer new reach into the Tumblr audience.
Related articles:
February 12, 2013 - 1 year ago
Tweet
lxooiyg reblogged this from 140proof and added:

//youfiverr.com

140proof posted this
Posted In Trendsperformancetumblr