2 notes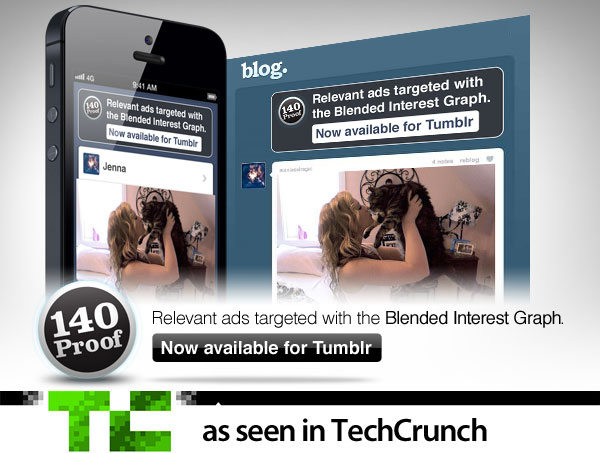 140 Proof is expanding its social ad technology offering today with the launch of a new format called Native Ads for Social Sites.
The format allows 140 Proof advertisers to run campaigns on popular blogging platforms like WordPress and Tumblr.
The company started out by using social data to determine user interests and then use those interests to target ads in social networking apps. The new native ad units also use 140 Proof's targeting technology, but by expanding to blogs, it's taking another step towards serving, in the company's words, "any publisher or media brand that wants to monetize social content, online or on mobile."
Co-founder and CTO John Manoogian III (@jm3):
We're team particularly excited about adding new revenue solutions for Tumblr bloggers because many companies — including 140 Proof — are already using Tumblr, and they know that Tumblr is an important way to reach customers. At the same time, advertising hasn't really become a big part of the platform — Tumblr only launched its first ad products last year.
We've already grown a long list of brands and Tumblr owners who are waiting to use the newly announced 140 Proof's ad units for Tumblr, giving us a very strong, positive signal that the Tumblr community is ready and asking for this.
To learn more about connecting with Tumblr's creative audience for your brand advertising campaign, just email our sales team at: hello@140proof.com.
Read more on TechCrunch: 140 Proof Brings Native, Interest-Targeted Ads to Tumblr and the Open Web
Related articles:
January 24, 2013 - 1 year ago
Tweet
num1zoetrentfan reblogged this from 140proof
140proof posted this
Posted In tumblr