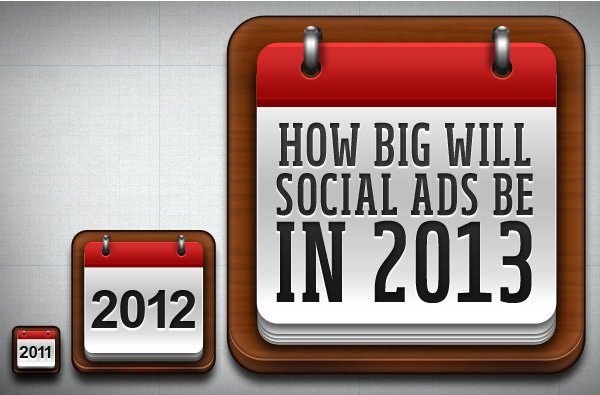 Since 2003, social advertising has grown and lately flourished, with 2012 its biggest year yet. The United States ad market overall grew by 4% in 2012, partly due to campaigns for political candidates and Olympics sponsors. And social giant Facebook recently reported a 32% increase in revenue for the third quarter of 2012. But how will social advertising shake out next year?
Experts predict that social advertising market growth will continue to climb to between $6 billion and $10 billion. In May 2012, BIA/Kelsey predicted that social ad spending in the US will top $5.9 billion for 2013, with social display taking the biggest portion. And last year, the marketing analysts at eMarketer predicted that the paid social market, including social ads, social network games, and social network applications, will earn $9.99 billion dollars in 2013.
Other signs point to a successful social ads industry for 2013, too. 
Nielsen reports that almost 172 million people in the US accessed social networks in 2012, with 20% of online time being spent on social networks (more than any other online activity).  Women spend the most time in social, up to 18 hours per month. And 30% of mobile time is now being spent on social media networks. 
Because 140 Proof offers social advertising across many social platforms and uses public social data to target ads, we're bullish on continued growth for 2013. With over half of the US population using social networks, social advertising is increasingly the best way to reach relevant audiences at scale. And brand advertisers increasingly prefer the Blended Interest Graph to reach these audiences, because social data is public and always up-to-date.
In January, we'll be profiling the biggest social advertising trends of 2013. Stay tuned for more insights as the social ad industry grows and evolves.
Related articles:
December 4, 2012 - 1 year ago
Tweet
Posted In TrendsFacebookTwitterAdvertising