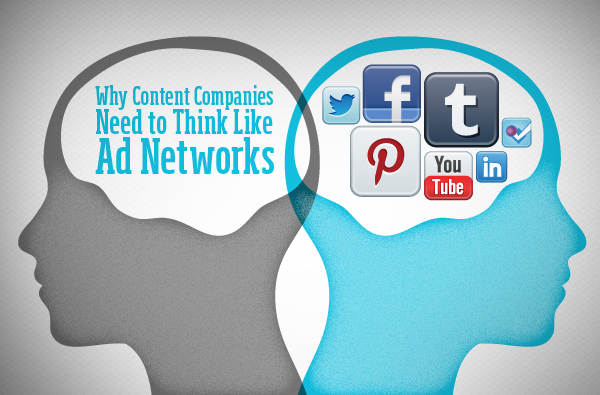 The greatest trick that social platforms ever pulled was convincing media powerhouses that their audiences weren't their own. We propose that content companies and big publishers, like The Atlantic, Huffington Post, Turner and others, start laying claim to the spaces their audiences inhabit — wherever the audience is.
What? First, see the situation in reverse. Facebook just announced, in its Data Use Policy changes, that it will soon start showing Facebook-targeted ads outside of Facebook. If Facebook can extend outside its website, why can't content companies do it?
Content Companies Can Reach Beyond Their Websites
Media entities like Condé Nast and ESPN are made of up so much more than their print magazines, websites and TV shows. Their online audience is fragmented, most often discovering their content in places like Facebook, Twitter, Tumblr, YouTube, and Pinterest. So, while significant portions of their audience may exist off-site, many brands still have a narrow view when it comes to audience monetization.  Specifically, they constrain potential reach (and revenue) by limiting the offering to their own sites, magazines and tv shows.
Gawker briefly broke out of "stay at home" mode last month when Hurricane Sandy knocked out their servers. Thinking fast, Gawker temporarily redirected their site traffic to a Tumblr blog, which they then wisely monetized through a sponsorship with State Farm. Essentially, in the absence of a website, they monetized their social audience.
These out-of-box exercises shouldn't be limited to times of crisis. There's nothing preventing Gawker from monetizing its Tumblr feed 52 weeks a year, not just the one week when hosting is down. Social sites like Tumblr, Twitter, Facebook, and YouTube are where Gawker's most dedicated fans spend most of their time online. Arguably, the millions of people following Gawker in social are its most dedicated readers. How is that?
Social Is the New Subscription Model
Let's break it down. Articles and blog posts are content companies' stock-in-trade. The main discovery tool for today's news is social linking, meaning that people read articles when friends post the links on Facebook. This is why media companies like The Huffington Post spend so much time optimizing their headlines for clickability. 
But content companies like Huffington Post and The Atlantic rely on the huge volume of traffic generated by people who subscribe to those brands' social feeds directly.  While the old print-subscription model and newer paywall models aren't generating the revenue for content companies that they should, monetizing social audiences could bridge the divide.  After all, aren't followers the new "subscribers" in the most traditional sense?  
What if Content Companies Could Monetize Their Social Audiences?
What if content companies could take all their social followers, like Gawker did with Tumblr, and monetize them just as they do with people browsing the Gawker website? It's possible. While social platforms depend on content companies thinking that the only way to reach these audiences is within walled gardens, the truth is that content companies can own the social spaces themselves and own the revenue stream for the content they produce.
Related articles:
November 27, 2012 - 1 year ago
Tweet