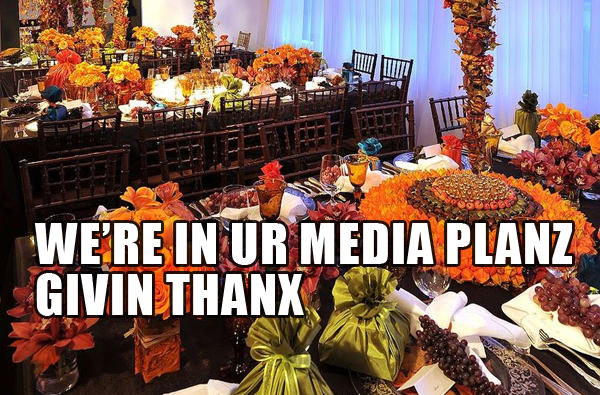 We meet a lot of media planners (people who organize advertising campaigns on behalf of brands), because our job is to help them excel at their jobs. As we gear up for Thanksgiving, there are 5 things that we guess they might be giving thanks for this year, given all that happens in media planning. 
The following is written just for media planners, with our thanks for the work they do.
1. Holiday sales radar
You and all your media planner friends are more on top of marketing news than almost anybody else. Only Best Buy, Walmart, and Gizmodo know more. So hit the Black Friday sales strategically and drop us a hint, would you?
2. More client pitchables
People say Black Friday ain't what it used to be, what with Cyber Monday and online retailers taking over gift shoppers' lists. But experts are also saying that brand marketers started their holiday promotions before Thanksgiving. That afforded media planners, a few lucky ones at least, some extra time to pitch longer campaigns that start before Thanksgiving (and, we expect, allow more time for adjustments and optimizations). 
3. Worry-free turkey day
Maybe Thanksgiving is never entirely worry-free, depending on who's cooking. But at least with your 140 Proof campaigns (and likely other full-service ad companies), your account manager handles campaign launches and reporting for you over Thanksgiving weekend. Unlike platforms that require you to click around for reporting and manually launch new creative, 140 Proof does it all automatically. Have a scoop of stuffing for us. 
4. Gift shopping from your desk
Thanksgiving also marks the beginning of holiday schwag season. As is tradition among vendors, schwag must flow to clients as a sign of commitment and holiday love. Sometimes, it's all bumper stickers and reusable shopping bags. But sometimes it's REGIFTABLE schwag. Cha ching! More cash in your pocket for candy canes. And you know what? If you're a media planner and you want to outfit your family in 140 Proof schwag, just pick out your faves and drop us a note. 
5. Family braggables
It's the high season in advertising, especially for luxury, retail, and CPG brands. That means more ads to go around for everyone. And while you're off for a holiday and your second cousins ask you what you do for a living, you'll have something to point at. "I did that," you'll say during a commercial break of the Macy's Thanksgiving Day Parade. And they'll understand.
To all our media planner friends: have an awesome Thanksgiving!
Related articles:
November 19, 2012 - 1 year ago
Tweet