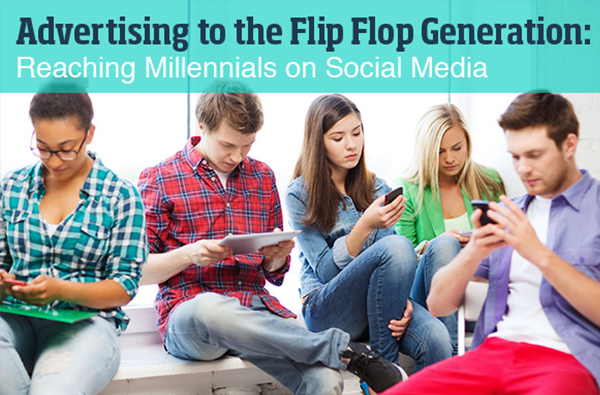 Read any article on social media and millennials these days, and you're likely to stumble on one consistent message: "Facebook is so 2010." While the media's understanding of millennials' social media preferences and Facebook's waning influence may be overstated, it does accurately convey the inherently fickle nature of millennials' social media inclinations, often leading to the confusion (and frustration) of marketers.
Millennials, or those between the ages of 18 and 34, are a crucial demographic for marketers. As one of the fastest growing populations in the country, these 72 million Americans play a huge role in swaying trends across the industries. With an impressive combined purchasing power of $245 trillion, they also play a powerful role in market performance. But above all, millennials may be best known for their addiction to all things digital, and in particular, their attachment to social media. Having grown up on digital technology, they are the first generation to become true "digital natives" and often define what's cool in social media. However, their preferences can be equally indicative of what's on its way out, which has a tendency to leave marketers anxious that they'll be left out of the next big thing in social media (remember MySpace Tom from the early 2000s?).
Facebook is so 2010
As millennials have fast-tracked big changes in social, the social media ecosystem has become increasingly fragmented. Up until a few years ago, social media was pretty easy to understand, even for those "out of the loop." There were just a few key platforms: Facebook, Twitter, and Instagram. What's more, monetizing those platforms and advertising to the crucial millennial niche was relatively straightforward. In recent years though, millennial engagement with these platforms have been on the decline. A recent study found that 25 percent fewer U.S. teens use Facebook now than they did in 2011, and only 23% of teenagers cite Facebook as the most important social network.
Advertisers don't need to run for the exits yet — the big platforms still maintain a stronghold on the landscape. According to a Pew Research study, a whopping 81 percent of millennials have a Facebook account, and a study from ComScore found that 46 percent of millennials used Instagram. Even so, their influence is clearly waning. So if not Facebook, where are these millennials headed, and how can marketers continue to reach them?
Popular with millennials, a headache for marketers
In stark contrast to the exhaustive over sharing characteristic of Facebook and Twitter, there has been a new rise in the social media world: private messaging apps. Apps like SnapChat, which has popularized the disappearing picture message, is now used by one in five millennials. Whisper allows its fast-growing user base to post messages to followers and the public anonymously.
While the perks of these new apps have proved wildly popular with millennials, marketers are a little less keen on the idea as advertising capabilities are slow to catch up to what's hot on social. Advertising plays a huge role in social networks long-term viability due to the revenue ads produce. Young, wildly popular social apps generally don't have the resources to offer advertising options as their focus is on scaling fast. Pinterest, for example, only just launched paid advertising. Pinterest launched in late 2010 and has since become a hugely popular social platform with an estimated 40 million active users, but its introduction of ads just last week signifies just the lapse of time that happens as companies grow and can invest in ad capabilities. By the time advertising launches on these new platforms, millennials have oftentimes moved on to the next cool app, and brands are fearful that will happen with these new social media networks as well.
These new forms of social media have also proved logistically problematic for marketing. With pictures that disappear in a flash and sometimes limited consumer data, advertisers have found themselves in a bind. With no intuitive place for ads and monetization, how can advertisers connect with millennials on these popular new platforms? It's a question that leaves marketers squirming.
Making Room For Marketing
Traditional social media may well be feeling some competitive heat, but that doesn't have to spell doomsday for marketers. Instead, marketers should take some fresh perspective on these new social mediums. Private messaging apps and anonymous logins offer an opportunity for marketers to move into consumers' everyday mobile activity. Moreover, while marketers may initially be intimidated by the prospect of working advertising into these new formats, they can push marketers to think more creatively on how to best reach some of their most valued customers.
Some of the most creative (and relevant) brands today have already pushed into these domains. For instance, Taco Bell recently launched a creative campaign that leveraged Snapchat stories (a visual, video equivalent of a Facebook status) to zero in on its Gen Y customers. Hulu similarly unleashed a clever campaign on anonymous secret sharing app Whisper by targeting specific keywords that users search for, and providing images of its new show alongside it. Even WeChat, a popular Chinese texting app similar to WhatsApp, is proving that simple texting apps are a new opportunity for marketers by integrating e-commerce into their platforms.
While millennials may jump around on their social networks, it's no reason for marketers to sweat. Consider it an opportunity to get more creative in advertising and you won't be left feeling left out like MySpace Tom.
Related articles:
June 18, 2014 - 2 months ago
Tweet
Comments »