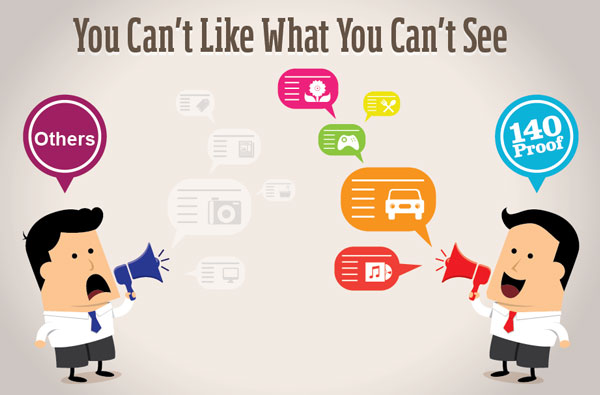 It's a nutty world, isn't it?  One of the hot conversations in the media industry is around the fact that a lot of digital ads are invisible.  We're not talking about fraud, although there's plenty of that.  It's that many publishers load up their pages with ads below the point at which people stop scrolling.  
The fact that there's debate about this is silly.  On one side you have advertisers who rightly feel that if they're paying for pixels that never meet an eyeball they are wasting their money, on another you have publishers who say that the probability that certain ad placements won't be seen is factored into the pricing already so advertisers shouldn't be too concerned, and in the middle of it all you have the IAB trying to promote a set of standard viewability metrics to bring some order to the chaos.
But there's a simple solution.  Quit it with the invisible ads.  End the debate by solving the problem.
The ads you see from 140 Proof are all visible.  The majority appear in mobile apps, top or bottom of the screen.  They stay there, regardless of how you scroll around.  The ones that appear in Tumblr, whether on a desktop or mobile browser, are always in the second content position.  Unless you leave the page before looking at the page, you'll see our ads.
There's nothing complicated about ensuring that you only place ads where the eyes are.  Our feeling is that since we match an ad with a person who is interested in the theme of the ad, the least we can do is show it to them.
Related articles:
March 7, 2014 - 1 month ago
Tweet
Posted In technology
Comments »