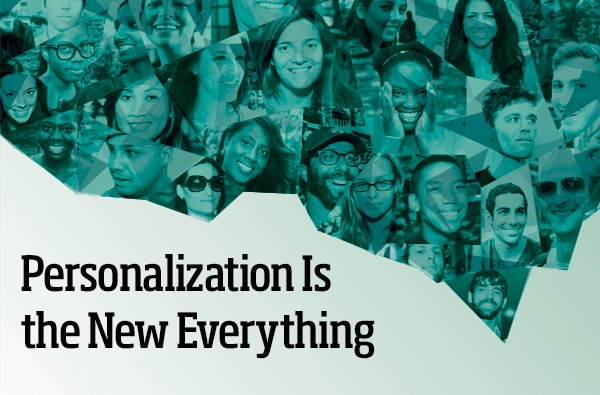 There is no denying it, the age of the personalized web has arrived and it is here to stay. Early social networks and the rise of Big Data have certainly been instrumental in transforming how we interact, communicate and digest content. In fact, personalization has crept so far into every facet of our lives that if a TV show, recommended article, or targeted advertisement isn't relevant or representative of our interests, it might as well be non-existent.
We're living in a world where we are constantly connected and sharing information 24/7. While this connectedness and open flow of information is what enables personalization, it comes with a caution sign for brands. The traditional idea of privacy has gone out the window and we must define new terms and conditions for how we navigate our digital lives. For marketers this means walking a thin line between engaging consumers in hyper personalized ways and being creepy. We recently explored this topic taking a deep dive into the benefits and potential hazards as personalization continues to evolve.
Personalization hasn't only changed our definition of privacy, but its heightened consumer expectations. Just take a look at how it has changed the way we consume entertainment — we binge watch entire TV show seasons in one sitting. Gone are the days of anxiously awaiting the next episode of Dawson's Creek, terrified to miss it for fear of waiting an entire week to catch up.  DVRs may have eradicated that horrible experience, but personalization has forever changed TV consumption as we know it. Netflix was one of the first to leverage user data to package and deliver content that feeds our all-you-can-eat appetite for entertainment. What's more Netflix, Apple TV and Amazon Fire TV look at user data to serve relevant recommendations not just for personalization sake, but because it is the standard experience consumers expect.
However, TV and online video are only at the infancy of personalization, as we continue to see and hear interesting developments in the space. In fact, it may not be long before ads address consumers personally, in real-time as they watch their favorite online videos. It is too soon to tell how far brands will go before consumer's pull back and draw a line in the sand when it comes to their 'privacy', but one thing is for certain: gone are the days of generic ads, mass targeted messages and poor user experiences.
Related articles:
May 29, 2014 - 1 month ago
Tweet
Comments »