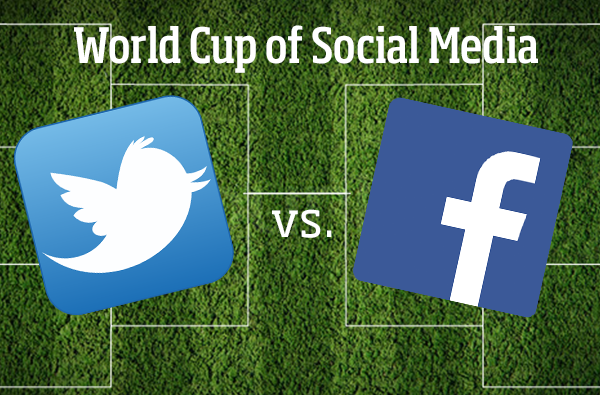 Over the past few weeks of The World Cup, we've witnessed spectacular goals, some fancy footwork with a soccer ball, and one "did that just happen?" shoulder biting incident. We'd say it's been one of the best World Cups yet, and as we've whittled the brackets down to just four teams, lingering on the sidelines is another tournament taking place between social media giants: Facebook and Twitter. While The World Cup has stiff competition from other sporting events like the Super Bowl, which garnered an impressive 24.9 million tweets in 2014, the World Cup's social engagement has dominated news feeds and Twitter feeds.
Pre-game warm-up
Both Twitter and Facebook caught on to the potential around the World Cup, before the whistles even blew by creating specific hubs for World Cup engagement. Facebook even crafted a special "Trending in the World Cup" section, as well as an interactive map for fans to check out where other users are viewing the game. Not to be outdone, Twitter boasted in a blogpost that "the only real-time #WorldCup global viewing party will be on Twitter, where you can track all 64 matches, experience every goal and love every second, both on and off the pitch." Twitter's real star of the show? Its rollout of "hashflags" that let every soccer fan show their patriotic pride when they included their country's hashtag in a tweet. Let the games begin!
Facebook's star lineup
In spite of a staggering 500 million soccer fans on the social network, Facebook is weak where Twitter has its strongest asset: real time engagement. Facebook's trending topics, rolled out earlier this year, often lag behind events in games and are so targeted that they fail to capture the larger conversation.
Even if Facebook is the underdog there, they've certainly found other ways to drive their popularity with soccer fanatics. The players themselves seem particularly taken with the site as a means of connecting with their supporters. Case in point: remember that bite seen 'round the world? Sure, there were plenty of witty Twitter reactions. But when it came time for Luis Suarez to apologize for his actions, he took to Facebook to write his condolences about his Italian snack:
With 7.9 million fans on Facebook, Suarez was certainly able to get a lot of people listening. Other players have followed suit (minus a remorseful biting incident, of course) and have utilized the platform as the best way to connect with their adoring fans. Is that enough to stand up to Twitter, though?
Twitter's strategic gameplay
With engagement seemingly higher than ever on Twitter, there's a lot to talk about how the social network has developed its World Cup strategy. But the World Cup's biggest Twitter win was actually born out of team USA's crushing loss to Belgium. Even though they lost, US goalie Tim Howard has become an internet
sensation ever since memes and #ThingsTimHowardCouldSave went viral on Twitter. Could Howard have just saved the social media game for Twitter, too?
This year's champion?
Facebook put up a good fight, but we have to hand it to Twitter here. The site is simply unrivaled when it comes to mirroring the fast-paced nature of soccer itself, and fans, players, and the media alike have all taken notice. While the real winner of this year's World Cup has yet to be decided, a hearty congratulations to Twitter for championing the World Cup of Social Media!
Related articles:
July 11, 2014 - 1 week ago
Tweet
Comments »